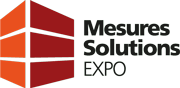 Find us on Mesures Solutions EXPO
Next edition on October 5 and 6, 2022
The living room
measurement specialists
Flagship action of the Measurement Network for the year 2022, the 3th edition of the Measurements Solutions EXPO trade fair will be held at the Cité des Congrès in Lyon. It will present the exhaustiveness of the Measurement offer, from the world of research to that of production, from current solutions to future prospects.
Being as close as possible to customers is the motto of the MSE trade fair. By offering a general offer that meets multiple potential needs, the exhibitors wished to bring together measurement professionals in the same place in order to offer them complete solutions. Visitors can thus access a diversified offer, whatever their expectations, techniques and processes used.
Innovative products will be present along with the most cutting-edge know-how, both on the stands and during the exhibitor workshops.
Organized around more than 130 stands , visitors will discover nearly 300 major French and international brands.
From advice to the realization of projects, the experts present at this show will advise visitors not only through the innovative solutions presented on their stands, but also through the organization of around twenty thematic workshops, during which they will present their know-how and their novelties.
2 News


an area Start-up
an area job-training
This year, a space will be dedicated to Start-Ups so that they can present their projects. The world of measurement is evolving and affects more and more areas for which new expertise is now available.
Train and recruit in line with the market, a necessity to continue to best meet the needs of customers. MSE2022 will offer this year a space for exchanges between measurement professionals, schools and recruitment stakeholders. Job opportunities are plentiful.
Within this framework the French College of Metrology will animate the Pavilion "Metrology Innovation" of the show, a space dedicated to CFM members who wish to get closer to this theme. It also organizes a series of conferences on subjects in line with industrial needs and quizzes focused on quality, methods and techniques, as well as fun and pragmatic animations on metrology: will you have the right measure?
Mesures Solutions
EXPO
Latest edition
110 EXHIBITORS - 1,667 VISITORS
35% Executives, Engineers
23% Technicians, Foremen, Drivers
16% Heads of department
11% CEO, CEO, Managers
25% Chemistry, pharmacy
13% Food industry
11% Oil, gas, energy
9% Metallurgy, steel industry