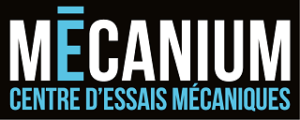 MECANIUM
BOOTH: B33
AREAS OF EXPERTISE :
Data acquisition
Test benches, Test facilities
Dimensional, Three-dimensional
Hardness
Standard, Calibrator
Calibration, Metrology
Extensometry
Strength, Torque
Humidity, concentration
Hygrometry
Soil mechanics, Geotechnics
Position, Displacement
Pressure
Temperature, Pyrometry
CUSTOMERS / MARKETS:
L'offre de Mécanium s'adresse aux marchés du transport (automobile, aéronautique, aérospatial, maritime), de l'énergie (nucléaire, hydraulique, éolien, solaire), des fabricants de matériaux (métaux et alliages, polymères, matériaux composites), du médical, du sport et loisirs, des bureaux d'études en ingénierie, des utilisateurs de solutions de simulations numériques.
---
Mécanium's offer consists of mobilizing the most appropriate means of measurement for the mechanical characterization of materials and products: displacement, strain gauges, image correlation, shape survey, acoustic emission, effort, pressure, temperature, hygrometry. Relevant means of measurement coupled with the design of test benches and the development of experimental protocols make it possible to meet the specific needs of each of our customers, through laboratory tests or on-site measurements.
Social reason
MECANIUM
Address
66 Boulevard Niels Bohr
Cs 52132
69603 Villeurbanne Cedex, France
Telephone
+33(0)4 72 43 84 17
Website
E-mail