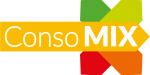 ConsoMIX
BOOTH: ESU
AREAS OF EXPERTISE :
Liquids (dosage, steam)
Position, Displacement
Electrical test and measurement
Data acquisition
Software
Level
Pressure
Gas analysis
Automation, Regulation, Process
Leak detection control
Hygrometry
Air quality
Time, Frequency, Tachymetry
CUSTOMERS / MARKETS:
Smart building: our services relate to the owners of large tertiary or real estate parks such as Property Ownership, Syndics and Syndicates of co-ownership… They also relate to the managers of public or private networks (water supply, heating networks, etc.). Smart kit: the tool was developed for Eau de Paris and can be adapted to any water network. It is therefore aimed at local authorities, inter-municipal authorities, unions, public authorities and any company specializing in the field of water management.
Social reason
ConsoMIX
Address
25, rue de Ponthieu
75008 Paris, France
Telephone
+33 (0)1 44 43 94 70
Website
E-mail