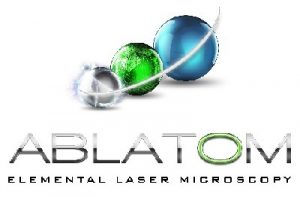 ABLATOM
BOOTH: ESU
AREAS OF EXPERTISE :
Data acquisition
Physico-chemical analysis
Test benches, Test facilities
Software
Optical
Photonics
CUSTOMERS / MARKETS:
The offer proposed by Ablatom is addressed to industry, research laboratories, analytical and control laboratories in the field of biomedical, geosciences and materials sciences in the broad sense: Energy, heterogeneous catalysis, metallurgy, ceramics, glass industry, etc. including research and development programs. Our offer covers the entire customer need chain for chemical surface characterization of materials and on-line & real-time chemical control: From technical feasibility studies to the chemical analysis and imaging services to the development, design and delivery of custom-made LIBS instruments & softwares. Our experts provide technical support, training and after-sales support.
---
Laser-Induced Breakdown Spectroscopy (LIBS) is a laser chemical analysis technique that is distinguished from other conventional techniques by its unique characteristics such as sensitivity, its speed of analysis, adaptability to the sample and its environment thus giving it a unique capacity for chemical surface characterization of materials and for real-time on-line chemical control.
Social reason
ABLATOM
Address
Building of the Institute of Analytical Sciences
5, Rue De La Doua
69100 Villeurbanne, France
Telephone
+33(0)6 03 58 61 04
Website
E-mail